The Local Garage Door Repair Bell CA
When It Comes To Garage Door Repair Bell CA Technicians Do It Right
At Garage door repair Bell, we understand just how important our customers' concerns are. That's why we work hard to ensure that the information that you share with us remains safe and protected, just like your garage will be when our work is done. Using only the best materials and providing highly trained staff, we complete our evaluation and get the job done right the first time without wasting your valuable time.
Our staff comes to your home or business equipped with everything that they need to do the job. That includes tools, parts, and the right amount of specialized knowledge to deliver complete satisfaction at the end of the day. We are happy to state that our customers will tell you that we don't just promise to do a good job; we do a good job each and every time.
At The Local Garage Door Repair Bell CA, we understand that equipment breaks down at all hours of the day and night. Our emergency service team will get to your home or business at any time of the day or night, weekends included. Our on-point scheduling team works with you to get the work done at your convenience. However, rest assured that our customers feel protected knowing that an emergency repair team can get to their location soon after they call.
Sometimes people aren't sure what the problem is. Do you need a part or do you have an internal malfunction? Don't worry if you aren't exactly sure what has gone wrong with your garage door. Our experts arrive on scene, evaluate the situation, and work quickly to get your garage door back to good working condition.
New Installation Or Replacement Garage Doors
There are many different reasons to have a garage door installed. Perhaps you are building your new home or adding a garage. As garage doors age, it may be time to freshen up your exterior look with a new one. No matter what the specification for your new garage door, we'll work with you to figure out the best type of door and the optimal installation process. Keep in mind that the number of garage door options has steadily increased over the years and that we will provide the expert assistance that you need to get the repairs done.
Popular Garage Door Parts
When it comes to the most frequently used parts for garage door repairs, the garage door spring definitely tops the list. Not only is the spring the most important when it comes to smooth operations, it is also the part that many home owners choose to replace on their own. Our experts work with you to pick the right spring for your type and size door.
However, the installation of the garage door can be quite difficult so we do recommend that you only attempt this repair if you are sure about the procedure and have the right tools. Garage door springs are under high tension and can result in injury. If you aren't sure about getting the job done safely on your own, rest assured that our technicians can complete the repair for you.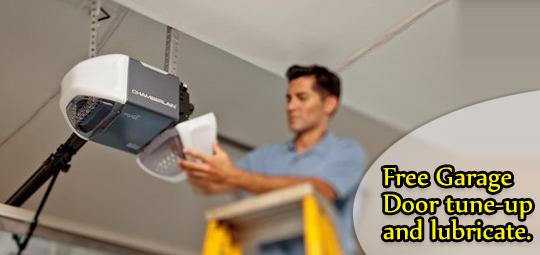 Installation Of Garage Door Openers
Garage owners often find that by simply updating their garage door opener with a newer model that they get the improvements they seek. When your garage door is in good shape, it is a simple matter to swap out the old one and switch in the new. This simple process makes getting in and out of your garage a much simpler process and we will help you to select one best suited for your needs.
Garage Door Safety
Earlier in this article, we mentioned that many of our customers chose to replace their garage door springs on a do-it-yourself basis. The spring and other garage door maintenance tasks should always be attempted with safety taking center stage. If you are not sure about getting the job done in a safe manner, our service teams The Local Garage Door Repair Bell CA always available to you.
Safe, fast, and efficient installation by one of our teams at Bell means not only that no one will be injured during the job, but also that your home will be safe and secure from intruders. By rapidly securing the garage door, you are adding an extra layer of protection for your family. Peace-of-mind comes when the job is complete.

The Brand We Work With
Genie
Lift Master
amarr.com
chiohd.com
raynor.com
clopaydoor.com
haasdoor.com
doorlinkmfg.com
Of course, many home owners like to do their own repairs and maintenance. It comes with the territory. Keep in mind that when specialty skills and tools are required, we have the resources that you need. More info
The Local Garage Door Repair Bell CA Company
Not only will we inspect your garage door on an annual basis, but we also align them to extend the life of your door. Our technicians work with you to make sure that you are given the right choices to keep your home functional. They will also instruct you about how to do simple tasks such as oiling hinges to keep openings and closings smooth and safe.
Dealing With Off Track Garage Doors
One of the biggest headaches when it comes to garage doors is when they go off track. It may be that they weren't anchored well and will require a re-alignment to start working properly again. We check for problems as small as loose bolts as well. Our professionals are geared to keeping your doors opening and closing trouble-free.
What To Do For Garage Door Repair Service Bell
Most people usually pay very little attention to their garage door springs. Understandably, it is just a small accessory to your home. However, though very tiny in size, this is the most important part of the raising and lowering of your garage door. Just one reason for paying respect to your springs.
Your garage door springs last a long time and have only one function: to make it much easier to lower and raise your door. Over time, however, your springs tend to weaken and may lead to a breakage. So, when you need a garage door repair service Bell, what do you do?
Before calling a professional about repairs and replacements to your door springs, though, here are some valuable information to arm yourself with.
-Types of garage door springs. There are two different kinds used in your door, torsion and extension springs. A torsion spring is the one attached above your garage door, or any door for that matter, while an extension spring can be found on both side's top tracks. It is usually much harder to remove and replace torsion springs than extension springs.
-Safety first. Since garage door springs are wound very tightly or under a lot of tension, they can cause a lot of pain when you try to fiddle with them. You need to think of safety first and know that this is one household chore best left to the hands of the pros.
-Size does matter. Danger is not the only reason to let a professional replace your garage door springs. If you want to have a go at DIY, you need to take into consideration the size of the spring you need to replace and buy. To save time and money, make sure that you have the correct size (and spring type) for your garage door.
The average cost for your garage door repair service Bell is between $250 and $350. However, the bucks you shell out will depend on the magnitude of the break in your spring. Be sure to enlist the services of garage door repair specialists to avoid further problems down the road.